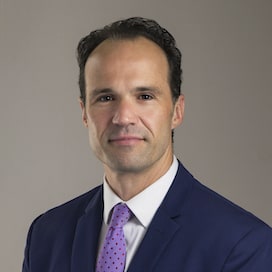 Carlos A. Fabano
Carlos Fabano is a trial attorney who represents individuals and their families in personal injury and wrongful death actions, including medical malpractice, premise liability, automobile accidents, trucking accidents, construction site accidents and defective products.

Mr. Fabano specializes in representing patients and their families in medical malpractice actions, including wrongful death and catastrophic brain injury cases. Prior to joining Leesfield Scolaro, P.A., he represented physicians in multiple specialties and hospitals for over 12 years. He now uses the knowledge gained from representing healthcare providers and his insight into the inner workings of insurance carriers to obtain significant recoveries for his clients.

Mr. Fabano has successfully litigated cases involving both pediatric and adult patients and he has extensive experience and knowledge that spans across all types of medical malpractice actions, including those involving the failure to diagnose medical conditions, delay in diagnosing medical conditions, surgical errors, OB/GYN malpractice and birth injury actions, cruise ship medical malpractice, misinterpretation of radiology studies, hospital and nursing malpractice and pharmaceutical overdoses and mis-dosing. Mr. Fabano's many years of defense knowledge have made him an innovative and zealous advocate for victims of medical malpractice. He has dedicated his practice to ensuring that individuals affected by medical malpractice have a voice and recourse for the effect these incidents have had on their lives.

Mr. Fabano grew up in Miami and he earned his Juris Doctor degree from Nova Southeastern University, where he was a Moot Court Honor Society member and a member of the ILSA Journal of International & Comparative Law. He received his Bachelor of Arts in International Relations from Florida International University.

Education
J.D., Nova Southeastern University

Honors & Recognition

Moot Court Honor Society
ILSA Journal of International & Comparative Law
1st Place Feinrider Moot Court Competition
B.A., Florida International University, International Relations
Certification in Latin American & Caribbean Studies
Jurisdictions Admitted to Practice All Florida State Courts
United States District Court for the Southern District of Florida
United States District Court for the Middle District of Florida

Professional & Bar Association Memberships
Cuban American Bar Association (CABA)
Publications
Maximizing Plaintiff Protection in the World of Asset Freezing and Bypassing the Due Process
Requirement of Notice: The Mareva Injunction As An Alternative to the American Legal
Remedies - Volume 9:1 of the ILSA Journal of International & Comparative Law