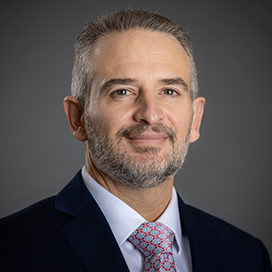 Thomas Scolaro
Partner
Tom Scolaro is the senior partner at the Miami-based personal injury law firm of Leesfield Scolaro, P.A. He is a highly accomplished trial lawyer having tried numerous cases resulting in multi-million dollar jury verdicts, including the largest personal injury verdict in Monroe County, FL, $40.5 million, for negligent security against a hotel, and a $15.4 million verdict for a brain injury victim in Broward County, FL. For almost 25 years, he has successfully represented injured clients throughout Florida, obtaining over $500 million in settlements and verdicts handling every conceivable type of case along the way.

Tom Scolaro is known as a tireless and innovative advocate in the practice of personal injury, traumatic brain injury, products liability, medical malpractice, maritime and wrongful death cases. He is a leader in negligent security cases and advocate for crime victims deserving civil justice. Tom has gained statewide praise not only for his unprecedented results, but for also helping change the law along the way where he can. For example, after successfully resolving dozens of carbon monoxide poisoning cases, he helped get legislation passed that now requires new buildings that have a fossil-fuel-burning heater or appliance, a fireplace, or an attached garage to have a functioning carbon monoxide alarm installed within 10 feet of each bedroom. (Fla. Stat. § 553.885). Tom works extensively on product liability cases ranging from defective guns, cranes, boilers, unstable furniture, electrical outlets, pumps, and appliances that cause electrocution and fires.

Having handled countless motor vehicle accidents cases, including catastrophic trucking crashes, Tom has been called upon by clients throughout the State of Florida. With its ever growing population, Central Florida has become Tom Scolaro's backyard. He has successfully litigated hundreds of cases on behalf of seriously injured residents of Central Florida alone. In the last decade, Tom has heavily litigated complex trucking cases and obtained record results on behalf of his clients. With injuries ranging from amputation, traumatic brain injuries, to wrongful death, in the last several years, Tom Scolaro has recovered over $40 million for his clients involved in trucking accidents.

With a large referral-based practice in Florida, many attorneys bring in Tom early on to buttress their legal strategy and to obtain the best result possible. He recently completed an electrocution case against a Florida resort that resulted in a $10 million settlement. He also represented a Florida client whose toddler died in a furniture tip-over incident securing a $17.5 million recovery.

Over the last decade, Tom has also litigated many cases against all major cruise lines for their negligent medical treatment of passengers and crewmembers who have fallen ill during a cruise. From Seattle, Washington to Miami, Florida, and many points in between, Tom has represented guests and crewmembers who were misdiagnosed or negligently treated. Tom has blazed the trail of holding cruise lines liable for the malpractice of their doctors. In one such case, he famously obtained a $3,337,500 arbitration award on behalf of a crewmember who received inept medical care that resulted in a right arm amputation.

Working mainly out of the firm's Miami offices, Tom Scolaro has also represented many out of state visitors and foreigners who travel to Miami on vacation. Tom has litigated cases on behalf of clients from all over the world, especially clients from Europe and Canada. In the last fifteen years, Tom has represented Canadians from almost every single Province, with cases ranging from motor vehicle accidents to parasailing, slip and fall, sexual assault, and boating accidents. Able to navigate intricacies of Florida-based lawsuits with concerns applicable to Canadian nationals, Tom has obtained well-above 8-figure settlements in total for his Canadian clients alone.

Tom Scolaro has obtained life-changing results for his injured clients, whether burnt, amputated, disfigured, or rendered paralyzed. His unrelenting approach to litigation and ability to strategize the most complex injury cases have earned him a stellar reputation amongst trial lawyers. He has had the distinction of being ranked as one of America's leading lawyers by prestigious publications, including Best Lawyers in America, Florida Trend Magazine, Florida Super Lawyers and South Florida Legal Guide and nominated as "Most Effective Lawyer in Personal Injury" by the Daily Business Review.

Outside of his commitment to his clients, Tom spends his time with his wife Valerie and their two children. He is an avid exercise enthusiast with an insatiable curiosity about all facts of life, culture, history and technology.

Memberships
The Florida Bar

Association of Trial Lawyers of America (Member)

Inadequate Security Litigation Group
Motor Vehicle Collision, Highway and Premises Liability Section
Nursing Home Litigation group

American Association for Justice

Florida Justice Association
Dade County Bar Association

Dade County Trial Lawyers Association
Monroe County Bar Association
Miami Beach Bar Association
Cuban American Bar Association (C.A.B.A.)
Honors
Top Up-and-Coming Lawyers in South Florida, South Florida Legal Guide

2006, 2007 (Peer selected out of 23,000 practicing lawyers in South Florida)

Florida Trend Legal Elite

2005, 2006 (Top Up-and-Coming Lawyers in Florida)

Superlawyers - Selected to Super Lawyers
Superlawyers - Selected to Florida Rising Stars
Nominated as Most Effective Lawyers in Personal Injury by Daily Business Review

Education
Juris Doctor (with honors), The University of Miami School of Law, 1999

HONORS: Dean's List
Litigation Skills Trial Class Honors
LAW REVIEWS: Business Law Review
Psychology, Public Policy, and Law - Managing Editor

Bachelor of Science (with honors), Manhattan College, 1996

Dean's Honor List
WGA Scholarship
Admitted To Practice
All Florida State Courts
United States District Court
Southern District of Florida
Middle District of Florida

Past Legal Employment
Certified Legal Intern, State Attorney's Office - Miami, FL
Legal Intern, Rockland County District Attorney's Office - New City, NY
Legal Intern, Rockland County Public Defender's Office - New City, NY
Selected Lectures, Seminars and Presentations
Featured Speaker, "Law Firm Marketing: What Works and What Doesn't When Building Your Practice," Live Online Seminar, West Virginia Association for Justice, 2021 Mid-Winter Seminar

Presenter, "Handling Cruise Ship Medical Malpractice Cases," Live Webcast, LawPracticeCLE, December 2020

Presenter, "Settlement Demand Letters," Live Webcast, ProLaw CLE, September 2020

Lecturer, "A 40-year Analysis of Marketing, Case Acquisition, and Continuous Law Firm Growth," Law Firm Marketing Program, Boardwalk Seminar, New Jersey Association for Justice, August 2020

Lecturer, "How to Optimize the Efforts and Utilization between Lawyers and Paralegals," Monroe County Bar Association 30th Annual Education Program," Key West, FL, February 2020

Presenter, "Handling Cruise Ship Medical Malpractice Cases," On-Demand Course, ProLaw CLE, June 2019

Lecturer, "Dodging Bullets in Pre-Litigation and Trial," Boardwalk Seminar, New Jersey Association for Justice, April 2017

Lecturer, "Ethical Marketing Practices," Monroe County Bar Association Seminar, March 2014

Lecturer, "Networking, Marketing and Expanding your Practice while Complying with Ethical Regulations, Monroe County Bar Association Seminar, March 2012

Lecturer, "10 Keys to Marketing your Practice," Monroe County Bar Association Seminar, November 2009

Lecturer, "Misdiagnosis and Mistreatment in the Nursing Home," Nursing Home Negligence in Florida, January 2006
Lecturer, "Apportionment of Fault in Inadequate Security Cases," Litigating Premises and Negligent Security Cases in Florida, Ft. Lauderdale, November 2005
Lecturer, "Finding Selecting and Handling Expert Witnesses," Litigating Premises and Negligent Security Cases in Florida, Ft. Lauderdale, November 2005